YWCA Serves Families with Minor Children
"The YWCA has been very wonderful for me and my family.
It has lifted a big weight off my shoulders and has allowed
me to focus more on myself, my future and my finances."
Built in 2008, Families Together consists of 10 townhouses located on YWCA's Park Road campus. Our program provides safe, affordable housing and intensive support services for homeless families with minor children. As part of the program, participants have access to services including: case management; computer instruction; career counseling; financial planning services, educational workshops, access to our Fitness Center and social activities. Each family can remain in the program for up to 18 months.
Families Together staff seek to create a safe, nurturing environment in which each family is encouraged to meet their needs constructively and to take responsibility to gain greater self-reliance. The goals of the program include permanent housing upon exiting the program, adequate income and savings to sustain permanent housing, strengthened family systems and improved sense of self-worth and being.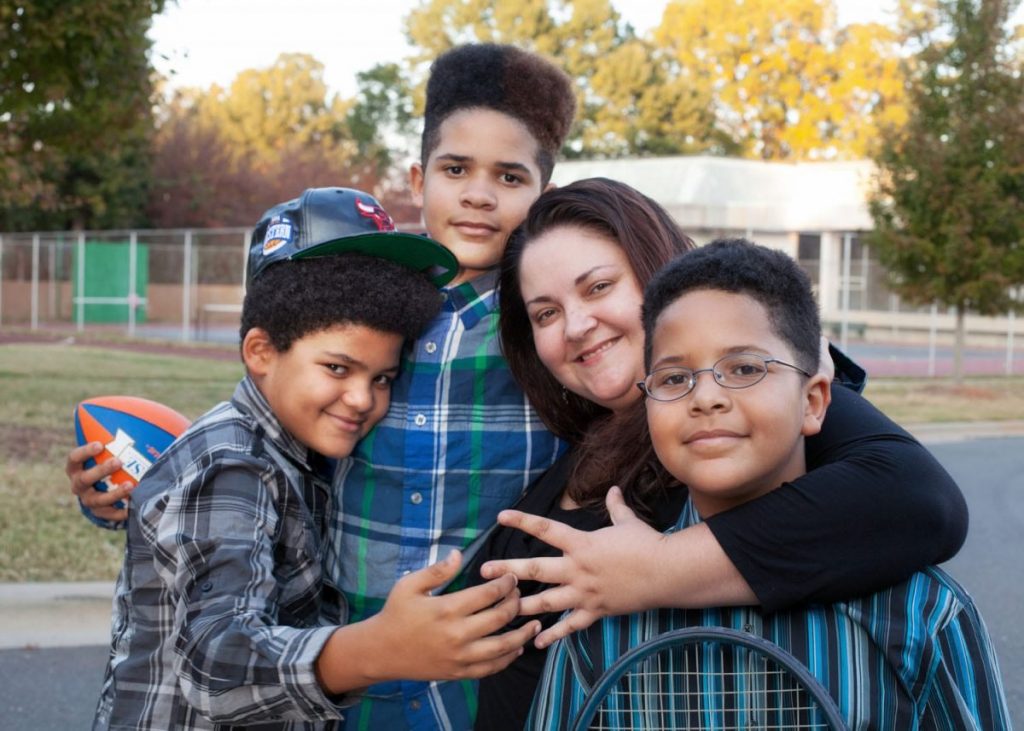 In FY 2018/2019, 83% of our families successfully moved into permanent housing upon exiting our program.
Participation in our program is by referral only. Referrals come from our partner agencies such as emergency and domestic violence shelters, substance abuse treatment programs, hospitals, and mental health facilities.
Families must consist of at least three members with at least one minor child
One head of household must be at least 18 years of age
A reliable source of income sufficient to pay low monthly program fees and meet other financial obligations, earned by the head(s) of household (specific income criteria listed in FT brochure below)
The motivation and ability to make positive changes, as determined through assessment
A fit between the family's needs for growth and the level of supportive services offered by YWCA's Families Together program
Ability to function in a minimally supervised supportive housing situation without intensive or frequent monitoring
If family members are not biologically related, they need to have lived together for at least one year prior to applying to the program
Affordable housing at below-market rates (monthly fees are based on 30% of gross household income)
An assessment by a trained clinician to determine possible needs for mental health and/or substance abuse counseling, medical attention, etc. and recommendations to access these services. Participants are required to continue any recommended outside treatment until it is complete
Support in the development of housing, career, financial, health, and personal goals that are reviewed at scheduled appointments with a case manager every 1-2 weeks
A resource center with computers, internet access, e-mail, online tutorials and a library
Educational and self-improvement workshops provided for parents and children on topics such as conflict resolution, self-esteem, parenting skills, stress management, health and fitness, money management, job search skills and creative arts
On-site Youth Learning Center providing after-school and summer programs for children in grades K – 5.
Use of a state of the art Fitness Center, including a swimming pool, exercise classes and fitness equipment
Opportunity to graduate with a Section 8 Choice Voucher (through CHA) upon completion of one year of participation and after meeting eligibility criteria (additional information provided at intake appointment)
Referrals to other community resources as needed
Please note effective March 16, 2020 in response to both guidance from the CDC encouraging social distancing and Governor Cooper's 3/14 Executive Order closing schools and limiting large gatherings, we have temporarily suspended all intake interviews and will not be admitting new participants until further notice. We will update our website once we resume accepting referrals.