2020 Orange Crush Swim Team
Orange Crush statement of purpose:
The YWCA Orange Crush swim team seeks to promote each swimmer's personal best in a non-competitive, team-oriented and fun environment. Our coaches are committed to developing strong swimmers through quality instruction while encouraging each child to improve at their own level.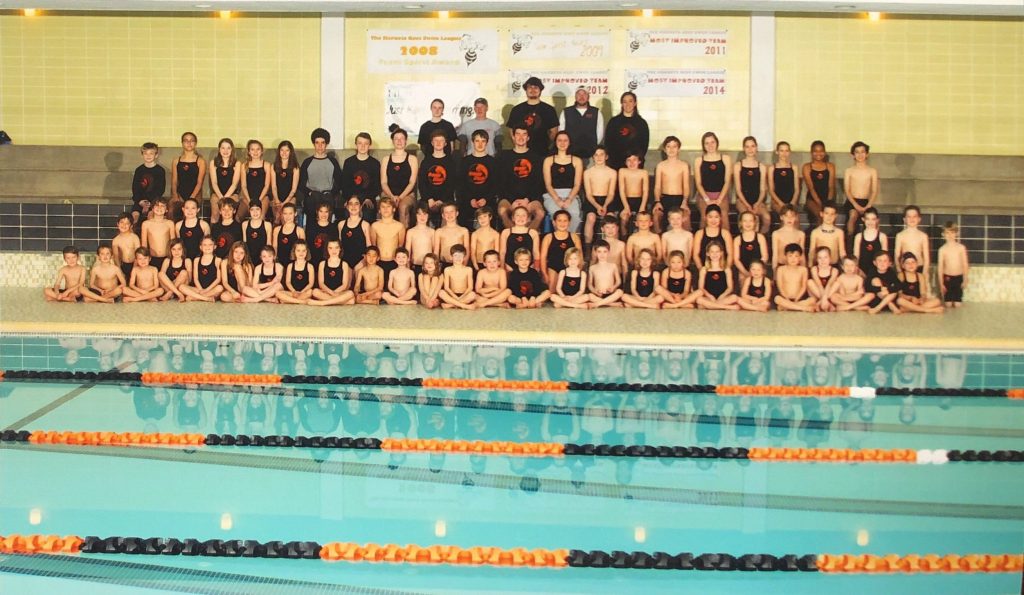 Hornets Nest statement of purpose:
It is the vision of Hornets Nest Swim League to promote a less competitive swim league in which children may compete, learn and improve without pressure or controversy. 
Eligibility:
Boys and Girls, ages 5 -18. Minimum requirement is the ability to swim 25 yd. front crawl (freestyle) and 25 yd. backstroke within 3 minutes.
League Rules limit teams to 100 participants at each swim meet. Participation is open to YWCA members and non-members who have paid the registration fee.  Every swimmer must be 18 years or younger and not more than a high school senior. Currently active U.S.S. swimmers are not eligible to participate. High school swimmers must attend at least 50% of practices with the team they represent. Team roster for any meet (dual or league) may not exceed 100. The age level of each swimmer shall be determined by age as of January 1, 2020.  Each swimmer shall swim in that level for the entire season. However, if a swimmer's birthday is during the season, he/she may elect to move up for the entire season.  This choice must be made before the first meet and may not be reversed.
2020 Times To Know And Practice Schedule:

Parents Meeting/Suit Fitting: Thursday, January 2, 2020 at 6pm
First Day of Practice: Monday, January 6, 2020 (See Times Below)
Practices are not rescheduled due to inclement weather or if a swimmer misses a practice.




Ages  5 – 6
5:00 – 5:30pm
Ages  7 – 10
5:30 – 6:30pm
Ages 11 – 18
6:30 – 7:30pm


Ages  5 – 6
5:00 – 5:30pm
Ages  7 – 10
5:30 – 6:30pm
Ages 11 – 18
6:30 – 7:30pm


Ages  5 – 6
5:00 – 5:30pm
Ages  7 – 10
5:30 – 6:30pm
Ages 11 – 18
6:30 – 7:30pm


 **The Swim Meet Schedule will be announced on January 2nd**
What You Need To Know For Orange Crush 2020
Cost:
YWCA Member: $220 & Non-Member: $245
Discounts:
$25 off for Family Discount $20 off for Ages 5-6 (determined by Age on January 1, 2020)
Included in Cost:
Shirt, Team Swim Cap, Trophy/Medal/Ribbons, End of Season Banquet                       
Not Included:
Required Swim Suit (Cost: $43-$58) May use OC Swimsuit from previous years.
Optional:
Personalized Swim Cap for $29.50 & Picture Package ranging in prices
Registration Options:    
*There is currently a waiting list for all swim categories. You can register to be placed on to the waiting list.*

Register Online
Click here to register online. 
Register at the Front Desk: Mon-Fri 7:30am-8pm, Sat 8:30am-4pm, and Sun 1:30pm-4pm
Download the registration form and bring to the YWCA.
Registration:
Started November 11th and will end when the team is at maximum registration.
Questions:
For Administration or Registration questions, please contact Jeff Nerret, Aquatics Manager
aquatics@ywcacentralcarolinas.org
980.585.0509
–
For Coaching or Team related questions, please contact Brian Coffey, Head Coach
orangecrush@ywcacentralcarolinas.org
704.281.4986