YWCA Speaks Out through Events
Women of Achievement Awards and Donor Recognition
Each year, YWCA Central Carolinas honors women who have enhanced social justice in the Charlotte community. Three inspiring women – each representing her own generation – are nominated by friends, loved ones, colleagues and mentees.
We are excited to announce our 2018 winners:
Pioneer Award – Dorothy Counts-Scoggins
Community Champion – Liz Clasen-Kelly
Emerging Leader – Jessica Gaynelle Moss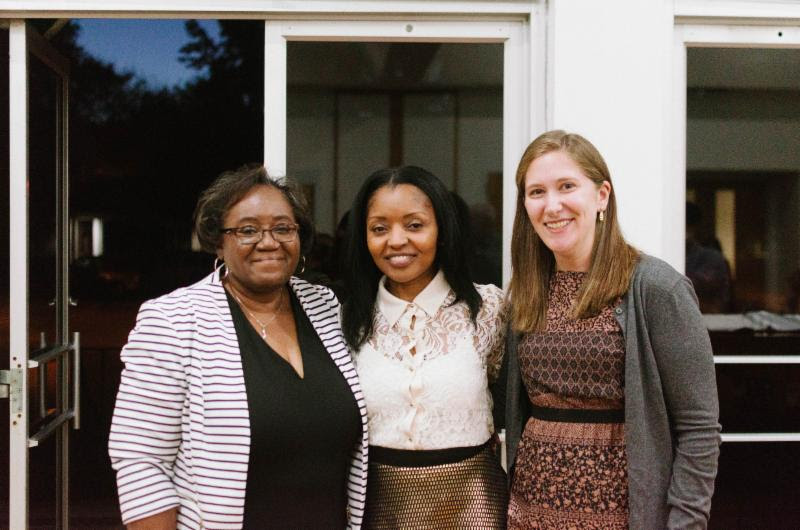 2017 Women of Achievement Winners
(From left): Fannie Flono, Tiffany Capers and Allison Winston.
On The Table is a community-wide civic engagement initiative that consist of mealtime dialogues hosted in workplaces, libraries, homes and other community locations. When we come together to learn from and with each other, we have the power to impact our communities. On The Table is about being exposed to new ideas, perspectives and ways of thinking while connecting to information, resources and opportunities.
On October 24 from 9:00am to 10:15am YWCA Central Carolinas will be hosting On The Table at our Park Road campus (3420 Park Road, Charlotte, NC 28209)
Wilmington On Fire Screening
Rosewood has long been infamous, but Wilmington came first and was even more devastating in its effects. In 1898, Wilmington was North Carolina's largest city, with a majority black population, a thriving black middle class, and a biracial Republican-Populist fusion government. On November 10, an armed mob of Democrat-backed white supremacists opened fire on African American neighborhoods, slaughtering hundreds and driving thousands out of the city for good. In a five-year passion project that consumed all his resources, director Christopher Everett amassed rare photographs, original research, and testimonies from historians and descendants of the victims to uncover a shocking event that marked a turning point in the politics of the post-Reconstruction South.
On November 15 from 6:00pm to 8:30pm we will be screening Wilmington on Fire followed by a Q&A session with the film's director, Chris Everett at our Park Road campus (3420 Park Road, Charlotte, NC 28209).
Light refreshments will be provided so please register.
We Believe Fundraising Luncheon
Now in its 11th year, the We Believe Luncheon is our largest fundraising event of the year. The luncheon brings together over 800 people annually at the Westin Hotel in Uptown Charlotte to share in the successes of our women, children and families that we serve. Previous years' videos are below.
Philanthropy Contact
Please contact our Chief Philanthropy Officer, Penelope A. Wilson, MBA, CFRE at 980.585.0498 or pwilson@ywcacentralcarolinas.org to discuss how you can be involved in our events, how to sponsor and/or with any other questions.