YWCA Speaks Out through Events
1902 Society's Winter Celebration
Nothing beats ringing in the holiday season like putting on a party for the students of YWCA Central Carolinas! You can join 1902 Society at the Sugaw Creek Youth Learning Center on December 12 from 4pm – 6pm to help YWCA host a celebration before the students leave for their winter break.
Play games, help with winter competitions, serve food, craft and have fun with students grades K-5.
The December 12th Winter Celebration will be held at Sugaw Creek Youth Learning Center, located inside Martin Luther King Middle School (500 Bilmark Ave, Charlotte, NC 28213)
Register to join the celebration, and if you can, bring an item from the Youth Learning Center's Wish List:
YWCA in Charlotte's MLK Parade
On January 12, 2020, YWCA Central Carolinas will be marching in Charlotte's Martin Luther King Jr. Parade. We will be passing out our 'Racism Hurts Everyone' stickers, candy and flyer about our coming racial justice forums to parade goers, as well as representing our mission of eliminating racism and empowering women!
You can join YWCA in the parade by registering today! Line up starts at 9:30am and the marching begins at 10am.
Parking is available at the posted rates on surface lots near the Hal Marshall Center, 700 N. Tryon Street. You may also choose to arrive via the Lynx Blue Line – 9th Street station is a short walk to the parade lineup location.
Make sure to dress appropriately for the weather with comfortable walking shoes, and if you have YWCA gear that's even better! You can add to your fitness and parade wardrobe by shopping everything YWCA on our online store.
If you would like more information before registering please contact Brittenay Causieestko-Lee, Community Engagement Manager, at
bcausieestko-lee@ywcacentralcarolinas.org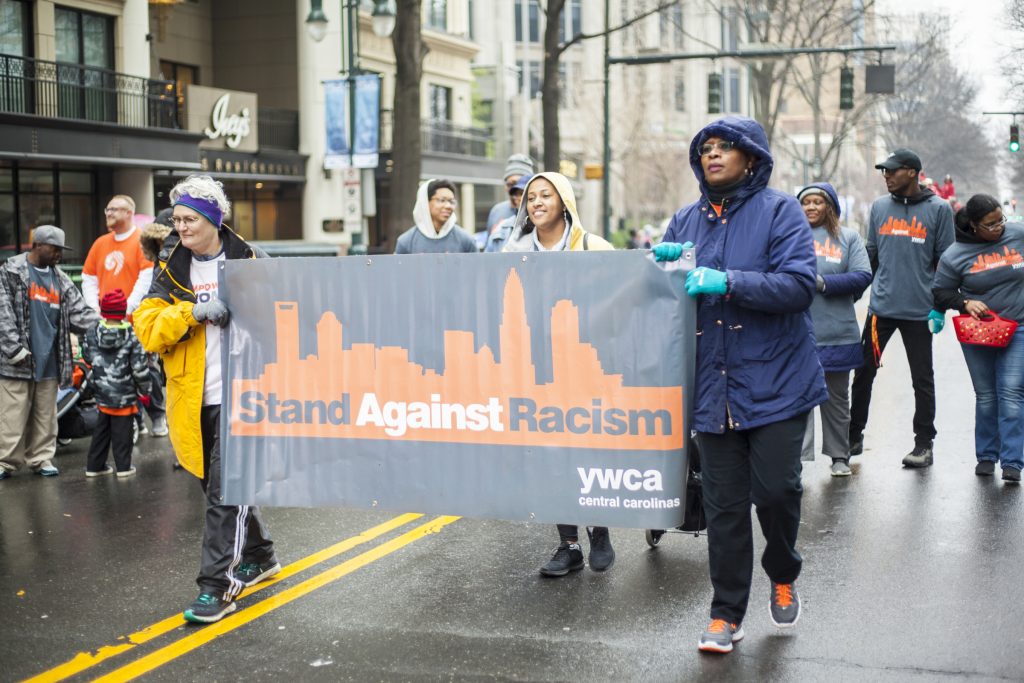 Register to join YWCA in the MLK Parade!
We Believe Fundraising Luncheon
The We Believe Luncheon is our signature annual fundraiser of the year. The luncheon brings together over 700 people annually at The Westin Hotel in Uptown Charlotte to share in the successes of our women, children and families that we serve. SAVE-THE-DATE for Thursday, February 20, 2020 for our next luncheon. To view our 2020 Sponsorship Packet, click HERE.
On February 28, 2019 Taiwo Jaiyeoba, Director of Planning, Design and Development for the City of Charlotte was our keynote speaker. See his remarks and our 2019 We Believe videos below.
Philanthropy Contact
Please contact our Chief Philanthropy Officer, Penelope A. Wilson, MBA, CFRE at 980.585.0498 or pwilson@ywcacentralcarolinas.org to discuss how you can be involved in our events, how to sponsor and/or with any other questions.